Complete Your Cozy Set for Less (99c eBook)
Complete Your Cozy Set for Less (99c eBook)
AGATHA CHRISTIE BOOK CLUB 2 – on sale, one week only
Do you already have the first in the Agatha Christie Book Club series and want to try another? Maybe your New Year's resolution is to immerse yourself in a new best-selling series? Here's your chance, folks…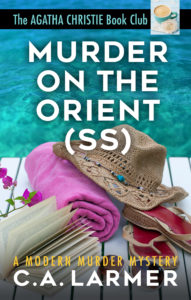 Eerie Echoes of an Earlier Orient Adventure…
THE AMAZON #1 BEST-SELLER
WHEN our book club friends take a cruise on replica steamship the SS Orient they expect little more than a glamorous voyage back in time. 

What they get has chilling similarities to another 'Orient' adventure—a passenger dead in bed, a menacing note and more clues than you can poke a blood-soaked dagger at. When a second body goes flying overboard soon after, the avid Agatha Christie fans must abandon their shuffleboard and ask: What would the indomitable Hercule Poirot do? Jump aboard for the latest adventure of the Agatha Christie Book Club, a modern group of book lovers who include devoted sisters Alicia and Lynette, poisons expert Dr Anders, ditzy librarian Missy and vintage queen Claire. This time there's a new member lurking in the wings, a barman with a bad attitude and a secret worth keeping.
Can YOU solve the murders before the book club do?