Mind-bending New Murder Mystery Reveal
Mind-bending New Murder Mystery Reveal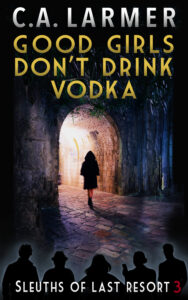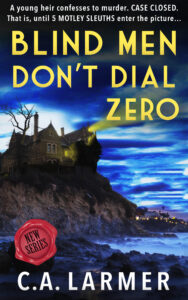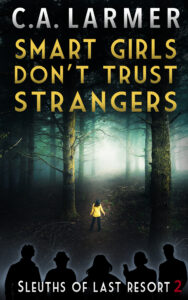 BOOK 3 IN THE SUPER SLEUTHS TRILOGY
Here it is at last, folks. The third book in my Sleuths of Last Resort mystery trilogy will be on sale from AUGUST 16, but you can PRE-ORDER your copy at Amazon now. While this book can be happily read as a stand-alone story, it does contain spoilers for books one and two, so it's best enjoyed in order. If you haven't yet devoured the first two, I'd highly recommend starting there (just click here). Meantime, here's a little more on book three…
GOOD GIRLS DON'T DRINK VODKA

Our SUPER SLEUTHS are back with FIVE impossible mysteries!

WHO KILLED SIR GEORGE?

The spectacular third book in the Sleuths of Last Resort series sees our amateur detectives come full circle when the mining magnate who united them is found murdered, his trusty assistant arrested – and with good reason. All the evidence points Verity Vine's way, and at least one sleuth thinks she's guilty.

Yet there are so many delicious suspects to choose from, especially when another prime suspect shows up murdered.

WHAT REALLY HAPPENED TO KILA'S SISTER?

While the sleuths start solving two fresh crimes, renegade gumshoe Kila is busy with a cold case of his own. He's just learned the monster who killed his sister on a Tinder date may be innocent, and the culprit could still be out there.

What's more, Kila's just found a connection to two seemingly unrelated deaths…

THE BODY IN THE ALLEY & THE GIRL AT BONDI

How does the shanking of a conman in a Kings Cross laneway and the accidental drowning of a vodka drinker at Bondi Beach connect to a Tinder date gone bad? As Kila begins to unravel the layers of Chili's four-year-old case, he realises it's more complex than he could have imagined, and it's going to take more than lemon squash and lager to swallow the truth of what happened to his sister.

Luckily, Kila has his fellow "supersleuths" to back him up…
PRE-ORDER NOW ~~~ ON SALE: AUGUST 16
SAY G'DAY TO THE SLEUTHS OF LAST RESORT
Who do you call when the cops won't listen and the mystery is impossible to crack?
Meet the Sleuths of Last Resort—five total strangers with a passion for puzzles, a unique set of skills, and more baggage than an airport carousel:
▪ Cluedo champ Merry (she can read a crime scene like no other);
▪ Reckless PI Kila (his rule-breaking might be what this case requires);
▪ Bestselling crime author Martin (he wrote the book on Locked Room Mysteries);
▪ Dinosaur ex-detective Earle (he's a straight-shooter with the inside track);
▪ Fearless crime reporter Frankie (she knows how to sort fact from fiction)
Individually they're screw-ups. Together they're an unstoppable force…
CATCH UP WITH THE STORY NOW @ Amazon & Elsewhere
Just click on the links below for Amazon and, further down, other eStores.
And happy (gripping) reading everyone.
xo Christina