After Exhaling For Months, I'm Bursting With Big News…
After Exhaling For Months, I'm Bursting With Big News…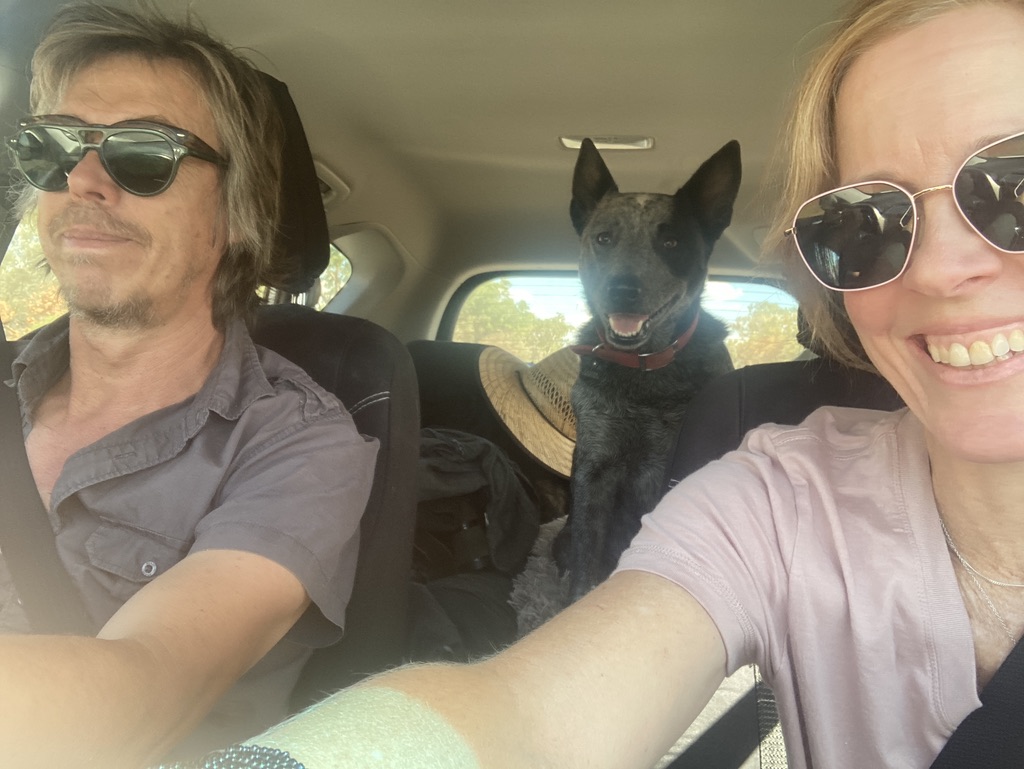 I'M BACK WITH A MASSIVE BOOK SALE - I MEAN, MASSIVE!
I recently went on a wonderful road trip with little more than my hubby, our Bluey and a two-man tent (yes, things got squishy!). But I'm back and feeling better than ever—and you get to reap the rewards.
While the journey was all about switching off—from life, our devices, and even our brains—I'm not surprised my brain was BURSTING when we returned, and before I knew it I'd sat down and pumped out a whole new mystery. There'll be more on that in the next newsletter, but for now, I want to share my other mysteries with you. For less!
TEN eBOOKS FOR UNDER $2 EACH
For the month of JULY I've put TEN of my crime novels on sale online at two eBook sites: SMASHWORDS and AMAZON. Even better…
TWO eBOOKS ARE FREE @ Smashwords!
Yep, you read that right. I'm GIVING AWAY the first books in two of my crime series. That way you get to dip your toes into the series at no cost to you! But that sale is only at SMASHWORDS, folks. They are on sale for JUST 99c at AMAZON, so that's not too shabby either.
• THE MURDER MYSTERY BOOK CLUB
• KILLER TWIST: Ghostwriter Mystery 1
So how do you get hold of all of your discounted copies? Just click on the links above or below. And then sit back and enjoy some summer/winter reads (depending which road you're currently on).
Happy (affordable!) reading, everyone.
xo Christina
THIS ONE'S FREE @ SMASHWORDS
THE MURDER MYSTERY BOOK CLUB: When Alicia Finlay walks out on her boring old book club and decides to start a new one—one totally devoted to her favourite genre, crime—she can not imagine the trouble she is about to unleash…

After gathering seven crime devotees together—including ditzy librarian Missy, fashionista Claire, paleontologist Perry, dashing Dr Anders, a poisons expert, and socialite Barbara Parlour—Alicia grows suspicious when one of them fails to show for the next club meet. Barbara has vanished and her husband, Arthur, is curiously unconcerned. The group suspects him of foul play until he meets his own foul fate.

With two baffling mysteries on their hands, the book club decide to do as their favourite fictional sleuths would do, and investigate!

So begins the first instalment of THE MURDER MYSTERY BOOK CLUB, a motley collection of amateur sleuths who must sort the real clues from the red herrings to solve the murder of Arthur Parlour and the mystery of his missing wife. They must also look closer to home because each of them is hiding a secret that could crack the case wide open.

A contemporary cozy mystery for those looking for fun and adventure at their next book club. Can you solve the mystery before the crime buffs do?
THIS ONE'S ALSO FREE (WooHoo)!
The first of the GHOSTWRITER MYSTERY SERIES — KILLER TWIST, a fun, contemporary crime.

From the Amazon-bestselling author comes ghostwriter Roxy Parker. She has a wicked sense of humour, a taste for cheap plonk and an obsession with crime. It's a good thing, then, that her clients keep getting murdered…

In this stand-alone adventure, socialite Beatrice Musgrave is found ripped to shreds below her cliff-top mansion. The police suspect suicide but Roxy smells a rat. She's been writing the heiress's life story and suspects she was hiding a dark secret beneath her twinset and pearls.

From the posh suburbs of Sydney to small-town Australia, Roxy finds herself lured into a web of intrigue where time has healed no wounds and the bandages are unravelling fast. With a menacing stranger at her heels and a handsome friend hiding a secret of his own, Roxy knows she has to act fast. And in case she doesn't know it, her nagging mother reminds her daily.

A thoroughly modern murder mystery.