Good News & Bad (+ 99c Mysteries)
Good News & Bad (+ 99c Mysteries)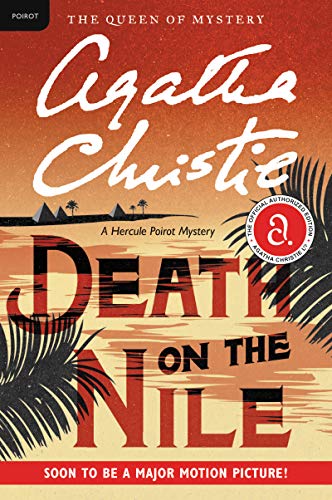 It's no secret I've been working on an exciting new mystery series featuring a group of amateur sleuths—some of whom you guys helped name (see more on that below).
While the first book in the series is now finished, what you don't know is that for super-top-secret reasons, the publication date has been pushed back. It's a very GOOD reason, I promise, and all will be revealed soon. Until then…
MY BOOK CLUB MEETS AGAIN!
I'm going to go VERY quiet over the next few months and write the fifth in my best-selling Agatha Christie Book Club series. Woohoo!
Oh, and guess which classic it will be loosely based upon? (Look up!)
Yep, I've always enjoyed Agatha Christie's Death on the Nile, and I'm excited about planning a modern mystery set around that title. My brain is already churning, the scrap book is already brimming, and I PROMISE not to dillydally with this one.
Until then, read on for deals and steals on my other mystery novels. Just to tide you over… 😉
PS: IS YOUR NAME IN THE NEWBIE?
Just a quick note for those who did not see my last newsletter where I announced the winners of my Character Naming Competition (see list, below). If you're one of the winning contributors and you HAVE NOT heard from me, please get in touch via return email. I'd love to have a chat and ensure you get your prize.

▪ TAWNEY BROWN (thanks to Beth)
▪ IGOR (thanks to Linda H)
▪ ROMAN (thanks to Susan M)
▪ POOKIE (thanks to Ellie H)
▪ MERRY (thanks to Meredith C)
▪ BURLINGTON (thanks to Charlene C)
7 MYSTERIES — 99c EACH (or less!)
I'm going a little wild this week and offering EVERY SINGLE eBook in the Ghostwriter Mystery series for just 99c each, or less (the first, Killer Twist, is actually FREE!). Read on for more and make sure YOU don't dillydally with this one.
Offer lasts just one week!
ABOUT THE SERIES
Ghostwriter Roxy Parker has a wicked sense of humour, a taste for cheap plonk and an obsession with crime. It's a good thing, then, that her clients keep getting murdered…

In each stand-alone adventure, Roxy sets out to ghost-write the story of someone rich or famous, but ends up stumbling on deadly secrets, dirty family laundry and more corpses than you can poke a keyboard at. With the help of her motley mates, including cool cop Gilda, hunky ex-boyfriend Max and his obnoxious sister Caroline, Roxy must solve crimes past and present to ensure she gets to The End, alive!
AVAILABLE: At all good eBook stores, including:
• Amazon
• Apple iBooks
• B&N nook
• kobo